VFFTC
Romance / Paranormal
When cash-strapped psychic Fiona Autumn encounters rich and powerful Ulysses Anthony, his high-class charm–not to mention his accompanying envelope stuffed with cold hard cash–persuades Fiona to read an ancient dagger in his possession. Unfortunately, breaking the dagger's seal awakens magic-wielding creatures hell-bent on revenge. Trapped in a dangerous partnership, Fiona realizes she has just unleashed an ancient rage that threatens all she holds dear.
This book is intended for a mature readership due to adult language and situations.
Stealing Sky
Science Fiction / Romance
When the powerful conquer weaker worlds, all that's left is stealing sky.
Returning home from his last tour of duty in the Duke's elite Red Flag Squadron, Skai Westford settles back to life with his father and brother on NuTierra Ba. The last thing he wants is feminine drama, but it seems his boss's granddaughter has no concern for his wants or his family's well being. When he takes a stand against Cassie's manipulative flirtations with his brother, Skai finds himself far from home and S.O.L.
Duke's spoiled daughter to some, scandalous socialite to others, Cassie Brintman is set on proving all opinions about her wrong. She just has to escape punishment on her grandma's swamp planet first. But plots and plans which take advantage of the sweetest of farm folk are destined to go awry, and Cassie finds there are worse prison wardens in space.
This book is intended for a mature readership due to adult language and situations.
Horror / Romance / Paranormal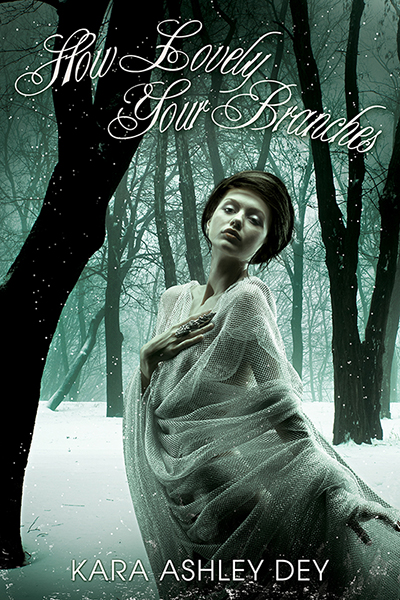 How Lovely Your Branches is a uniquely twisted tale, where daily haunts threaten all hope, take a merciless toll, and lead to a horrifying conclusion.
Recluse, Katie Crowe, has observed the world from a window in her father's loveless house. With the death of her father and the departure of her only friend, Katie sees no point in venturing out. Then a new neighbor and his three female companions take up residence across the road in the very house her friend had vacated four months ago. Gabe's eyes hold a promise to Katie when she gazes into them-a way out of her lonely prison, if she could but step beyond her threshold. Something holds her back: Though the past and its people seem far from her now, the trees still know her haunting secret.
***Update: I am releasing this novella as part of a larger work in 2020. Sorry, it is unavailable at this time.
******This is a horror story. Please, do not read if horror and sexual elements upset you. Everyone else, enjoy.***